Lead-in paragraph
We provide more than 300 daycare centres in Helsinki with meals designed to support children's wellbeing, development and nutrition during the day. On this site you can find the daycare centre menus as well as more detailed information on daycare centre meals and special diets.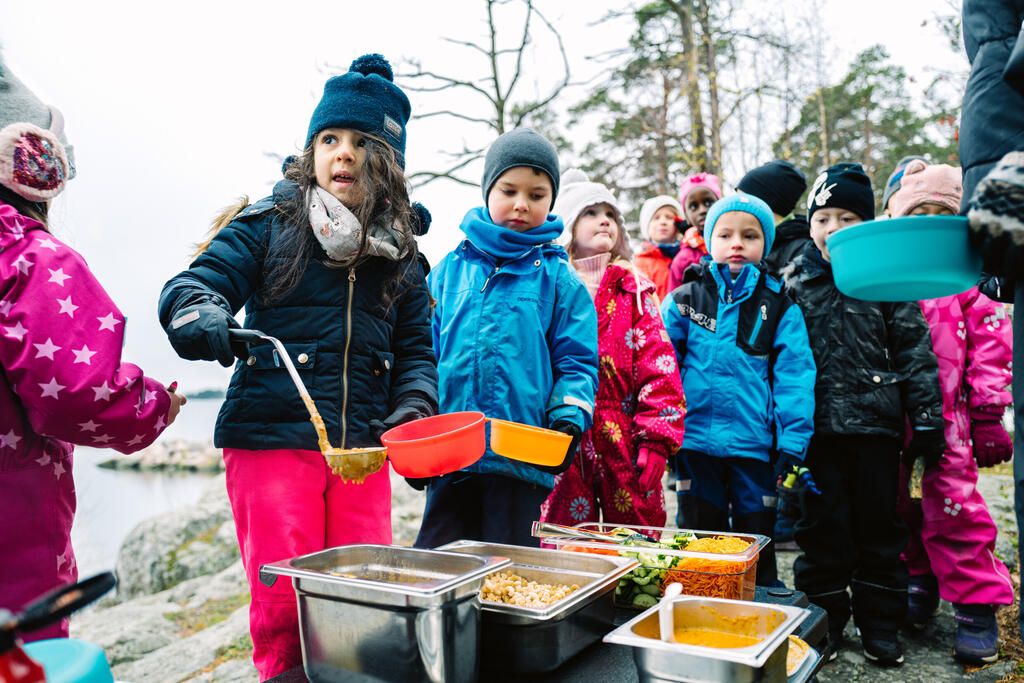 At daycare centres, we provide children with breakfast, lunch and a snack. At round-the-clock daycare centres, we also provide dinner and a bedtime snack and also take care of meals at weekends.
Daycare centre meals provide children with part of their daily energy need, supplemented by the meals they eat at home. Well-balanced, high-quality food meets the nutritional needs of growing children and introduces new flavours.  Having a meal together is also a lovely moment for social interaction that teaches good table manners and consideration of others. Approximately one fourth of the ingredients we use in daycare centre meals is organic. More detailed information on the ingredients and nutritional content of the meals can be found on our menu site.
At daycare centres, we follow a six-week rotating menu that was planned in cooperation with the Education Division of Helsinki, which is responsible for daycare centre operations. Food themes and seasonal celebrations offer variation in the menu, as we serve food to match the occasion.
Daycare centre meals
various porridges and gruels made from organic cereals and overnight oats

organic yoghurt or sour milk yoghurt

fruit, berries and vegetables

multi-grain bread or rye bread served with sliced cheese or cold cuts


 
nutritious main course, comprising of casseroles, soups or sauces

fresh vegetables and salads

crispbread and margarine and once a week soft bread

organic skimmed milk as a drink and oat drink with all meals
multi-grain bread or rye bread served with sliced cheese or cold cuts

carrot pancakes and rice pasties

kissels, quarks and drinkable yoghurts

berry and fruit porridges made from organic semolina

vegetables in various forms
You might be interested in